Scaly Spotted Feathered Frilled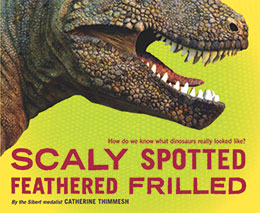 HMH Books for Young Readers
978-0-547-99134-4
How do we know what dinosaurs really looked like?
No human being has ever seen a triceratops or velociraptor or even the mighty Tyrannosaurus rex. They left behind only their impressive bones. So how can scientists know what color dinosaurs were? Or if their flesh was scaly or feathered? Could that fierce T. rex have been born with spots?
In a first for young readers, Thimmesh introduces the incredible talents of the paleoartist, whose work reanimates gone-but-never-forgotten dinosaurs in giant full-color paintings that are as strikingly beautiful as they aim to be scientifically accurate, down to the smallest detail. Follow a paleoartist through the scientific process of ascertaining the appearance of various dinosaurs from millions of years ago to learn how science, art, and imagination combine to bring us face-to-face with the past.
Bank Street College of Education Best  Books of the Year 2014
Horn Book Fanfare, Best of 2013
NSTA-CBC Outstanding Science Trade Books 2013
School Library Journal Best Books 2013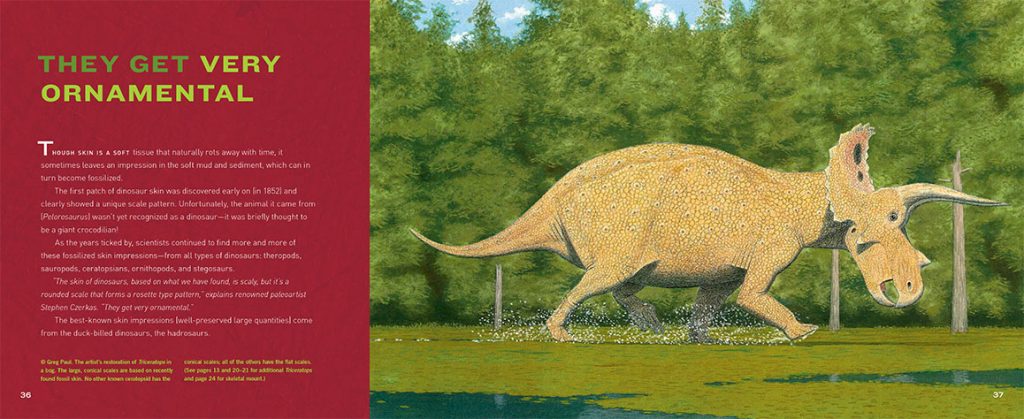 "Scientists know a great deal about dinosaurs, except for one big unanswered (and likely unanswerable) question: what did they actually look like? With only a few rare fossilizations of soft parts, many dinosaur characteristics—from skin color and texture to thickness of muscles and facial expressions—remain a mystery. To create images for books, scientific reports, and museums, paleoartists use scientific evidence and a dash of artistic license to come up with the best possible approximations. Thimmesh's explanations of this process are informative and well researched, including quotes from interviews with six prominent paleoartists. Decisions about the positioning of the dinosaurs, how to portray movement, whether they traveled in groups or alone, even the plants, landscapes, and other species associated with their habitats must be carefully grounded in the best available evidence. The book's thoughtful design shows a historical progression of our knowledge of dinosaurs, sometimes with early-twentieth-century art placed alongside modern images for comparison, or sequences of pictures that show how an artist takes a sketch of a fossilized skull and moves, step by step, to re-create facial details. Captions for the illustrations are very detailed and just as informative as the main text. Readers will come away from this excellent book with a new appreciation for dinosaur imagery and for the talented paleoartists who produce it." (The Horn Book)
"Required reading for serious dinophiles." (Kirkus Reviews)
"This is a stellar look at the methods paleoartists employ to bring dinosaurs to life on paper. With a fascinating mix of text, expert quotes, and outstanding artwork, it showcases an aspect of paleontology that kids may not know much about. A lot of books focus on the action at paleontological digs and the reconstruction of what is found in them, but Thimmesh spotlights the gifted individuals who combine their talent with the latest scientific knowledge to layer muscles and flesh onto skeletal remains, adding another intriguing dimension to the study of these ancient creatures. These artistic sleuths pull together clues from plant and rock studies and other sources to create images as thrilling for the youngest dinosaur enthusiasts as they are informative for the most studied researchers. The highlighted paleoartists' renderings get full-bleed treatment, providing readers with a variety of spectacular interpretations of how dinosaurs appeared when they roamed the planet. Complementing the exceptional illustrations is an engaging, informative text written in a conversational tone. Artist profiles are included. The book is presented in a striking palette of saturated earth tones, completing a terrific package that will draw in browsers and serve report writers while inspiring young artists to consider applying their skills to this enthralling field." (School Library Journal)
"Sibert-winning author Catherine Thimmesh (Team Moon) takes a brilliant and fresh approach to dinosaurs—through the viewpoints of the paleoartists who paint their portraits.
"Recreating dinosaurs is like putting together a three-dimensional jigsaw puzzle–with plenty of pieces missing," the author writes. When a dinosaur bone is discovered, paleontologists, geologists and paleobotanists working together ask themselves a series of questions: What kind of dinosaur is it? How old are the fossils? What did the dinosaur eat? Thimmesh explains, "Finally, the paleoartists (who are often scientists as well) attempt to create an image." One spread pairs a 1901 painting of Triceratops by Charles R. Knight with another by Mark Hallett painted nearly 100 years later. Thimmesh ticks off four major differences in scientists' understanding of dinosaurs in the intervening century. John Sibbick's color series of Parasaurolophus demonstrates the challenge of determining a dinosaur's outer markings ("Color is a real problem," Sibbick said).
"With reproductions of the paleoartists' paintings and sculptures, Thimmesh's unusual approach allows her to discuss the history of dinosaur research. For instance, after a "virtual standstill" during the Great Depression and World War II, "dinosaur science came roaring back" with a "seismic shakeup," mostly thanks to John Ostrom's 1964 discovery of Deinonychus, which supported the theory that dinosaurs were warm-blooded. Stephen Czerkas describes the move from scales to feathers on the model he created with Sylvia Czerkas for Deinonychus saying, "You have to change what you think in the face of new scientific evidence." This book will be a hit among dinosaur lovers and budding scientists alike. (Jennifer M. Brown, children's editor, Shelf Awareness)